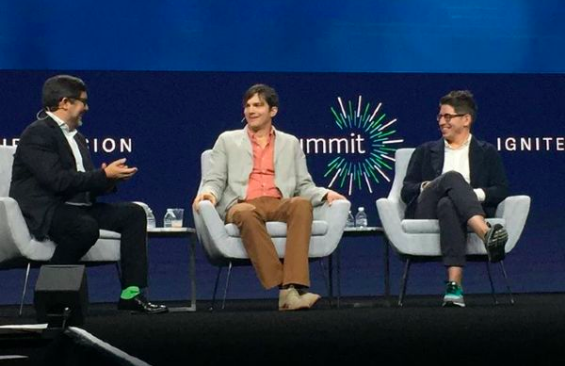 This past July, The Sage Summit took place in Chicago. The week was billed as a learning, training, and networking event with celebrity speakers and dynamic thought leaders such as Yancey Strickler and Ashton Kutcher. The experience was inspiring with innovative workshops and smart exhibitors. A standout moment for me involved fellow Iowa Hawkeye Ashton Kutcher. When asked how he would like to be remembered in 50 years. Kutcher, 38, laughed while answering that he hopes not to be remembered, but still alive. I appreciated the response because I feel the same way! Immediately thereafter, however, Kutcher was asked what he thought was next in tech? As the Founder of Bench SME.com, I was sitting on the edge of my seat waiting for him to reply that Independent workers will drive the next wave, delivering projects for organizations, both large and small, while simultaneously taking control of their careers. He didn't say that. Instead, he opined without hesitation that Cyber Security was the next thing his radar.
Well, Ashton, I respectfully suggest you take a look at the rise of the contingent workforce. When I went to work for IBM in the mid-2000's, I assumed that would be my last job. I loved all of it; the culture, the work, and the history of Big Blue. However, shortly after a promotion in 2009, I was laid off. You read that correctly, promoted in Q2 and sent off to pasture in Q3, only to be re-hired in 2011 because I was always an asset to my team and clients. Simply put, there is no more "gold watch" to symbolize 25 years of dedicated service with one company. This experience changed my mind forever as to the possibility of earning the coveted (yet extinct) "gold watch". To put some numbers behind this concept, layoffs by U.S.-based companies accelerated in April 2016, sending year-to- date job cuts to the highest level since 2009. Although the statistics seem grim, these all too common layoffs are not the end to a promising career. I believe the inverse.
By 2020, there will be close to 60 million Independent Consultants - more than 40% of the US workforce will be Independent. Sit with this fact for a moment and let it resonate. Currently, organizations are having a tough time finding and retaining talent, and layoffs are climbing to levels we haven't seen in 7 years. In turn, executives understand that Independent Consultants are critical to the success of not only a specific project, but their organization as a whole. So I bet you are asking yourself, how can I tap into this resource pool? Bench SME is the answer. Bench SME strikes to provide the contingent workforce and Clients an engine with which to connect.
Utilize Bench SME to support the delivery of IT work. Bench SME can efficiently find, onboard, and track the right resource for your IT project. How? Bench SME utilizes data to accurately match an Independent Consultant with a Client. The platform serves as an end-to- end answer to traditional firms, which drives value on both sides of the contracting equation. Consultants maximize earnings by delivering projects for a wide variety of Client Organizations, and the Client works with qualified Consultants to meet a specific project need on budget. In essence, Bench SME allows you to create your own "gold watch".
To Join the Bench SME Community is to realize the value in project based work.
Bench SME = Consulting. Differently.